Contributing to sustainable future through music
"Music for SDGs" Project (as of September 26,2020)
Mack Okubo (Project Director)
Music for SDGs Project
Several years ago, we launched "Music for SDGs" Project with the following objective:
Under the slogan of "No one will be left behind!", aiming to provide opportunities for the general public to deepen understanding of SDGs in an easier and enjoyable way through music events integrating entertainment and education.
As the first event, we successfully organized "JAZZ Concert – ANIME for SDGs" on November 1, 2018 at Crown Theater in Times Square, New York, where Japanese Anime songs were performed by jazz musicians, combined with talk shows on SDGs.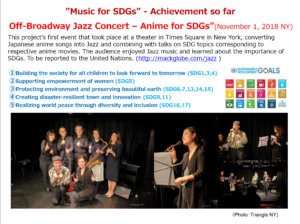 As the next events, we are planning to hold the following two events, back to back to the United Nations General Assembly 2020.
United Nations 75 Year Celebration SDGs Collaboration Contest
co-hosted by Rough Labo and Music for SDGs
(TBA)

(http://MusicForSDGs.com  or email MusicForSDGs@gmail.com )