Contributing to sustainable future through music
"Music for SDGs" Project (as of 20 March 2021)
Mack Okubo (Project Director)
Music for SDGs Project
Several years ago, we launched "Music for SDGs" Project with the following objective:
Under the slogan of "No one will be left behind!", aiming to provide opportunities for the general public to deepen understanding of SDGs in an easier and enjoyable way through music events integrating entertainment and education.
Music for SDGs Progress Report (in Japanese)
Our Youtube Channel: https://www.youtube.com/c/musicforsdgs
Our Facebook Page: https://www.facebook.com/musicforsdgs
(You can watch here)
IAPSS 24-Hour Telethon on Global Homelessness
On 21 November 2020 (EST), we are delighted to join IAPSS 24-Hour Telethon on Global Homelessness, hosted by International Association of Political Science Students (IAPSS) in collaboration with United Nations Association South New York (UNA-USA), UN2020, UN75, Music for SDGs, The World Is Watching, US-ASEAN Youth Council, and GPODS. Music for SDGs will arrange and run the 5 talent show, inviting world-class talented artists supporting SDGs, and assist in finding speakers and promoting the event.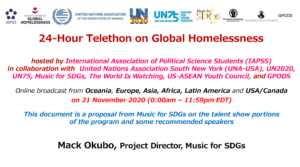 United Nations 75 Year Celebration Music Festival for SDGs
co-hosted by Music for SDGs Coalition and GloCha (6:00am – 11:00pm (EDT), 26 September 2020)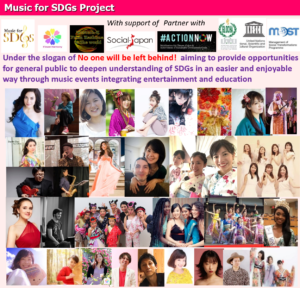 We organized a 17 hour online event on 26 September 2020, back to back to the 17th United Nations General Assembly.

Meghan Picerno, a Broadway actress starring Christine Daae of the Phantom of the Opera kindly promoted our event.
UN75 Music Festival for SDGs (English version)
国連75周年記念 Music Festival for SDGs (Japanese version)
Rough Labo SDGs Collaboration Contest
co-hosted by Rough Labo and Music for SDGs.

As the first event, we successfully organized "JAZZ Concert – ANIME for SDGs" on November 1, 2018 at Crown Theater in Times Square, New York, where Japanese Anime songs were performed by jazz musicians, combined with talk shows on SDGs.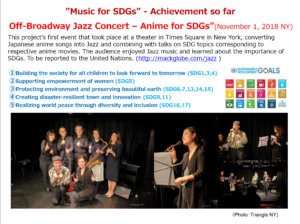 (http://MusicForSDGs.com  or email MusicForSDGs@gmail.com )