ABAC submitted the 2015 Progress Report of the APFF (Asia Pacific Financial Forum) to APEC Finance Ministers.
ABAC welcomes the Finance Ministers' decision to launch the Cebu Action Plan (CAP) to provide a roadmap for this undertaking. We particularly support the following initiatives currently being considered for inclusion in the Cebu Action Plan :
Financing of micro, small and medium enterprises (MSMEs) and supply chains.
Expanding financial inclusion.
Microinsurance.
Disaster risk financing (DRF).
Pipeline of bankable infrastructure projects.
A greater role for the insurance and pension industries.
Development and integration of capital markets.
Asia Region Funds Passport.
The Asia-Pacific Financial Forum (APFF), a platform for public-private collaboration to develop robust and integrated financial markets in the region, was proposed by the APEC Business Advisory Council (ABAC) and adopted by the APEC Finance Ministers at their 2013 annual meeting in Bali. In its 2014 Interim Report to the APEC Finance Ministers, the APFF identified undertakings to advance development in key areas of financial markets that are critical to the region's economic aspirations. These areas are: (a) lending infrastructure; (b) trade and supply chain finance; (c) insurance and retirement income; (d) financial market infrastructure and cross-border practices; (e) capital markets; and (f) linkages and cross-border issues.
The Interim Report contained a description of a number of action plans to advance these objectives.
click here for the 2014 APFF Interim Report
This Progress Report provides information on how these action plans are being developed and their future directions.
As for insurance and pensions, the progress report covers a wide range of topics, including
retirement income and longvity solutions
capital market and long-term investments
regulation and accounting
micro-insurance and
disaster risk financing.
ABAC website
APEC 2015 Philippines official website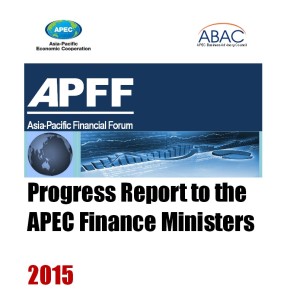 APFF Progress Report Executive Summary (via ABAC website)
APFF Progress Report and Appendices (via ABAC website)
ABAC Letter to APEC Finance Ministers 2015 (via ABAC website)