On 11 Febryary 2020, the Asia-Pacific Financial Forum (APFF) convened APFF Roundtable: Harnessing Investment to Accelerate Asia-Pacific Business' Alignment With ESG Goals, hosted by Bloomberg. As a panelist, I shared experiences and challenges on SDGs and ESG Investments in Japan and the Asia-Pacific and proposed high-level recommendations.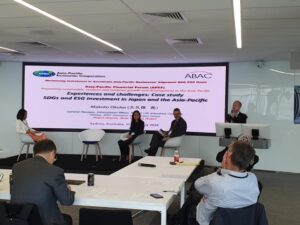 Material
Presentation of Mack Okubo at APFF Roundable in Sydney
The APEC Business Advisory Council (ABAC) also convened the 1st ABAC meetings in Sydney, Australia, on February 12-15, 2020.
Mack joined Finance and Economy WG (FEWG), ABAC Women's Economic Empowerment Luncheon and Sustainable Development WG (SDWG).
At FEWG, Mack shared the activities of the APFF on ESG Investments and confirmed our intention to provide input for supporting the ABAC's work on ESG Investments as its priority for APEC2020.