IJ GLobal and Euromoney convened the 3rd Annual Indonesia Infrastrucuture Finance Conference in Jakarta, Indonesia, on May 17-18, 2016.
Euromoney Seminars' official website for the conference
(You can download agenda, speaker profiles, presentations, photos, etc.)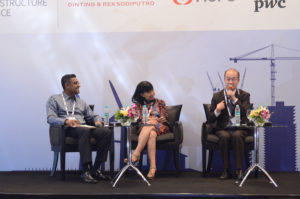 Mack participated in the Panel: Non-bank debt financing- what is the government's strategy to utilize insurane and pension fund money on May 18, 2017.
The panel was moderated by Mr. Raymond Siva, CEO, Edelman Indonesia.
The following panelists engaged in panel discussions:
Ms. Indrawati Darmawan, Director & Chief Financial Officer, PT Indonesia Infratsture Finance (IIF)
Makoto Okubo, General Manager, International Affairs – Nippon Life Insurance Company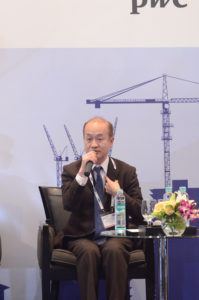 During the panel discussions, Mack responded to questions from the moderator and the floor regarding the opportunities, challenges and possible measures on promoting infrastructure investment by insurers and pension funds, based on the discussions and recommendations by the APFF.
Remarks made by Mack Okubo at Indonesia Infrastructure Finance Conference in Jakarta
Q1 What makes infrastructure investment attractive for insurers and pension funds?
http://mackglobe.com/wp-content/uploads/2017/06/indonesia1.mp3

Q2 What are the challenges and the work in the Asia Pacific to promote infrastructure funding by insurers and pension funds?
http://mackglobe.com/wp-content/uploads/2017/06/indonesia2.mp3

Q3 Question about construction risks
http://mackglobe.com/wp-content/uploads/2017/06/indonesia3.mp3

Q4 Question about investments in Asia
http://mackglobe.com/wp-content/uploads/2017/06/indonesia4.mp3