Mack gave a guest lecture for the 183rd New York Igyoshu Koryukai at Global Labo, in New York on August 10, 2018. The audience was mostly Japanese business people and students living in New York, and the lecture was given in Japanese. The session was moderated by Yoshi Amao, an actor and commedian.
ニューヨーク異業種交流会 official website
第183回 月例ニューヨーク異業種交流会案内@Facebook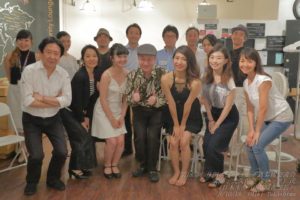 Starting from demonstration of 20 English accents in rap rhythm as an ice breaker, Mack described some keys to be active in the international stage, reflecting strengths of Japanese, discussed insurers' activities to promote SDGs, and shared some of his unique experience to incorporate entertainment factors in his negotiations at G20, APEC, OECD.
As an example of combination of education and entertainment, Mack invited dancer Yurika Ono and soprano dancer Hanako Morikawa, and combined a mini concert into the seminar.
MATERIAL
国際舞台で活躍するための秘訣~SDGsとビジネス,教育とエンタメの融合~