The APEC Business Advisory Council (ABAC) convened the 3rd ABAC meeting in Hangzhow, China on July 22-24, 2019.
Mack attended Advisory Group meeting, where he reported on circular economy with focus on ESG investing. He emphasized the importance of SDGs, showing an SDGs badge and also talked about Cat Bonds and Music for SDGs.
Mack also attended Sustainable Development Working Group, where they discussed circular economy infrastructure as well as business strategy on climate actions.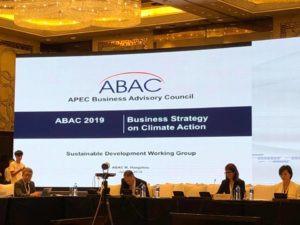 ABAC's official webiste
ABAC's APFF website
ABAC's Advisory Group Meeting website
(You can download here, agenda, presentations, or other related information)
Material
Draft Progress Report to APEC Finance Ministers Executive Summary (via ABAC)