The APEC Business Advisory Council (ABAC) convened the 4th ABAC meetings in Da Nang, Vietnam on November 4-6, 2017.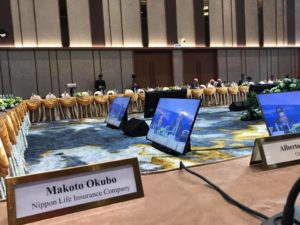 Mack provided a report at the APFF Caucus Meeting on the activities of the APFF Retirement and Long-Term Investment Working Group to promote long-term investors' role to support sustainable, resilient and inclusive growth and development of the Asia Pacific.
Material
Presentation of Mack Okubo at APFF Caucus meeting in Da Nang
ABAC's official webiste
ABAC's APFF website
(You can download here, agenda, presentations, or other information on the APFF!)).
ABAC's Report to Economic Leaders 2017
During the ABAC meetings, I got interviewed by VTV News, Vietnam National Television. I was asked how we are promoting infrastructure investments by insurers and pension funds. I also explained sustainable development and responsible investments.

VTV official site (in English)

(My appearance starts at 52:23)