The Oriental Life Insurance Seminar (OLIS) held the OLIS 50th Year Anniversary Symposium in Tokyo on October 25-26, 2017. About 150 participants gathered from 15 Asian economies to celebrate the OLIS's 50th Anniversary and learned about further development of life insurance.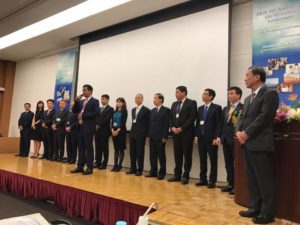 OLIS 50th Year Anniversary Symposium (via OLIS)
(You can see agenda and download handouts here)
Oriental Life Insurance Seminar website
Topics covered history of life insurance business in Japan, Life Insurance Business in Ageing, Roles played by Actuaries, Japanese life insurance crisis and lesson learned forward, Life insurance and degitalization, Activities of IAA, as well as insurers' long-term investments to support sustainable growth. Distinguished speakers included:
Professor Takau Yoneyama, Tokyo Keizai University
Mr Toyonari Sasaki, Vice Chairman, and Mr Tomohiro Koyanagi, Director International Department, Life Insurance Association of Japan
Mr Hideyuki Sumi, President,the Institute of Actuaries of Japan,
Mr Nobuyasu Uemura, Managing Director, Capitas Consulting Corporation
Mr Hiroshi Matsuoka, Chief Analyst, Insurance Department, NLI Research Institute
Mr Masaaki Yoshimura, Managing Director, Milliman and President-Elect, International Actuarial Association
Material
LIAJ's presentation "Life Insurance Business in Ageing society (via OLIS)"

The participants also heard report from the following distinguish speakers on Life Insurance Business from Thailand, Malaysia, Indonesia and Philippines.
Mr. Picha Siriyodhin, Executive Director, The Thai Life Assurance Association
Dato' Syed Moheeb, Chief Executive Officer, The Malaysia Insurance Institute
Mr. Kocu A. Hutagalung, Director, PT. Reasuransi Indonesia Utama (Presero)
Mr. Dennis B. Funa, Commissioner, Insurance Commission of The Philippines Presented by Atty. Brian Gale T. Sibuyan

(Photo source: OLIS)

Mack delivered a speech on Insurers' Long-Term Investments to Support Sustainable Growth and Key Regulatory and Accounting Issues and shared updates on the APFF activities to expand long-term investors' base, and highlighted regulatory and accounting issues on promoting long-term business and investments.

Material
Mack's presentation "Insurers' Long-Term Investments to Support Sustainable Growth and Key Regulatory and Accounting Issues (via OLIS)"


(Photo source: OLIS)

Mack also served as moderator for the panel discussion "How can the life insurance industry thrive in Asia where an aging population with a declining birthrate has been further progressing?". The following panelists representing aging economies (Japan, Korea, Taiwan and China) discussed challenges and opportunities and shared their perspectives:

Mr. Nobuyuki Muto, Manager, Government Relations Dept., The Dai-ichi Life Insurance Company
Ms. Shin Jung Hwang, Research Fellow, Samsung Life insurance Retirement Research Center
Mr. Kuo Mun-Bin, Project Manager, Actuarial Department, Cathay Life Insurance Company
Ms. Wan Lihong, Senior Manager, Development Research Division, Strategy & Marketing Dept., China Life Insurance Company

Material
Hyper-aged society and Life insurance industry in Japan by Mr Nobuyuki Muto (via OLIS)"

Challenge and Opportunity of longevity risk for Taiwan's Insurers by Mr Kuo Mun-Bin (via OLIS)"

Population Aging & Life Insurance Industry Development in China by Ms. Wan Lihong (via OLIS)"