The Infopoverty World Conference was organized on 13 April 2019 at United Nations Headquarters by OCCAM, with the patronage of the European Parliament Information Office in Milan, has since 2001, following the proclamation of the Millennium Development Goals, focused yearly at the United Nations Headquarters in New York on innovative solutions and best practices, elaborated, together with the United Nations system, governments and the civil society, to empower the fight against poverty. Under the patronage of the Italian Presidency of the Council of Ministers.
OCCAM's website
Watch video via UN TV
(Mack's speech starts at 07:50)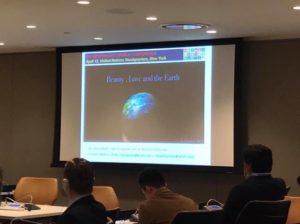 During Fourth Session:Which digital services are useful for a balanced rural and urban development of communities?, Mack joined as a panelist to talk about promoting insurers' role to support SDGs with focus on sustainable healthcare though technology and partnership. At the end of my presentation, he took this opportunity to promote Insurance Forum Japan 2019 that will take place on June 5 in Tokyo with a premise of G20 Japan Presidency 2019, and Music for SDGs Project as part of #ActionNow. Project member Atsuko Suzuki also joined the conference from Music for SDGs.
Material
Mack's presentation at Infopoverty World Conference