Mack gave a guest lecture at Kyoritsu Women's Junior College in Tokyo on December 30, 2016,
invited by Ms. Atsuko Nishimura. The audience was first year Japanese female students, and the lecture was given in Japanese.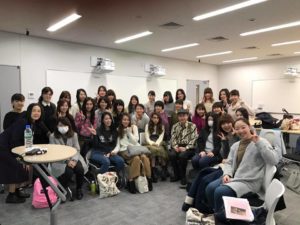 Starting from a demonstration of 20 different English accents, Mack described his unique approach to improve English for global communication,
with specific focus on differences between English and Japanese in terms of rhythm, ways of thinking and word order, including reviewing basic English, on which traditional Japanese Junior High School Education fails to deliver.
2016年11月30日、共立女子短大にて英語のゲスト講師をしました。テーマは日本人向けのグローバルコミュニケーションのための英語。
西村厚子先生の英語学講義の特別授業として呼んでいただき、20種類の英語の物まね芸も披露しつつ、
英語のリズムや発想を学ぶと共に、語順の違いを克服する秘訣を紹介する講義を行いました。
伝統的な学校教育では見落とされがちな目からウロコの「やり直し中学英語」も特集しました。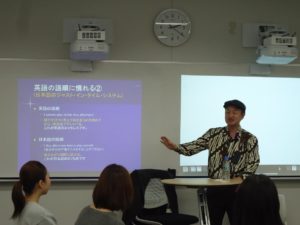 MATERIAL
English for Global Communication – lecture for Japanese